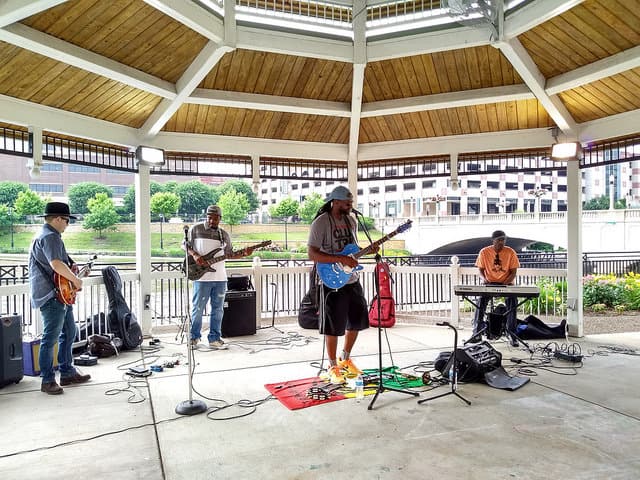 DOWNTOWN AURORA: A GROWING ARTS & CULTURAL CENTER IN ILLINOIS
AND HOME OF THE
JOHN C. DUNHAM AURORA ARTS CENTER
Who would have thought that a campfire built with river frontage in what's now known as the "Fox Valley" by Joseph McCarty in 1834 would later become the village of Aurora, the first city in the United States to publicly light the entire city with electric lights.  Carrying on with it's nickname as the "City of Lights", the village of Aurora has grown to a population of close to 200,000, is now the second largest city in the State of Illinois, and has steadily grown into an Arts & Cultural Center with the addition of the new John C. Dunham Aurora Arts Center.
Downtown Aurora has become a mecca of the Arts and is quickly becoming known for its culturally diverse arts community.  With events such as First Friday's which provides a free venue to a wide variety of arts and culture, the multitude of arts and entertainment available though the Paramount Theater and River Edge Park, or a locally owned boutique shopping experience with shops such as the "Wyckwood House" which offers unique handmade items by local artisans, there is something here for everyone.  You'll never run out of things to do in Downtown Aurora with the many events, parks, dining options or even just a stroll along the river.  This one of a kind community offers amenities available in the City of Chicago but in a very friendly environment without all the chaos that comes with living in a major city. With so much to offer, it's become a bit of a hotspot, particularly for the art crowd. The community has grown steadily over the years and, along with it, a sense of camaraderie and togetherness. Because of this, it's important for these like-minded individuals to have a place where they can come together to learn, create and showcase their work. Enter: John C. Dunham Aurora Arts Center, Aurora, IL.
These buildings, conveniently planted right in center of downtown Aurora, are the quintessential gathering place for artists and art lovers. Housing a combination of residences suitable as live-work spaces with community amenities designed for artists such as music practice rooms, collaboration lab, movement studio (dance and or yoga), an art gallery, and even a fitness room, in addition to an education center for the arts offering camps and classes only available here, this building provides a one-stop shop for budding and professional creative geniuses alike.
This artistic hub in the center of downtown features several inhabitants including the Artesan Lofts, Paramount School of the Arts, and a restaurant yet to be announced. Residences provided by Artesan Lofts within the building are appealing not just because of their proximity to all things arts in Aurora, but also because of the affordable rates available to those that qualify. Suddenly, the image of the "struggling artist" just became a whole lot chicer! The spacious one-bedroom (and 2 two-bedroom) live-work lofts have floor-to-ceiling windows that allow ample amounts of natural light to shine in while you let those creative juices flow.
As a bonus, the Artesan Lofts provides a place for resident artists to create and display their works in the "Weisner Gallery", named after the visionary and former mayor of Aurora, Thomas J. Weisner. As a resident, student, teacher or staff at the school, you are completely immersed in the local art community, and never more than a few steps away from an always rotating mix of ways to get your art fix, whether it's music, theater, dance, or traditional art.
The John C. Dunham Aurora Arts Center and all it has to offer is a unique collaboration that can only be found in Aurora, IL.  Be prepared for non-stop influences and inspiration to help you craft your own spectacular creations whether you're a resident of Artesan Lofts or a student at the Paramount School of the Arts. The biggest challenge you'll face is finding the time to take advantage of everything that's being offered.
Apply now before these units are gone!
Ready to Call Artesan Lofts
Click the link below to submit an online application and an Artesan Lofts representative will reach out to you.